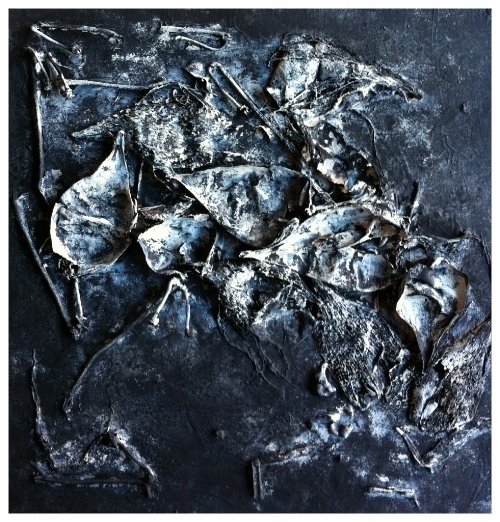 Maya Malioutina's work is as varied, multi-layered, and interesting as her life has been. Currently, she lives in New York City and in the Pennsylvania Countryside where she maintains studios in both locations. The artist has been crucially influenced by living in many countries in Europe. She has traveled widely; which exposed her to a wide range of different cultures and environments. These critical experiences of living and traveling to Italy, Greece, Russia, and Germany have helped her to accept impermanence and to embrace things that are imperfect and incomplete. This is a key influence and component of her work.
Malioutina has degrees in English and Russian literature. However, as the daughter of two physicians, and like many other creative individuals, Maya was also interested and intrigued by science. She thought she might also become a doctor. She attended the Pre-Med Post Bac program at Columbia, but realized, after a year, that her true calling was actually in making paintings. It is the synthesis of these experiences and training that has allowed her to create work that is fascinating, multifaceted, and beautiful.
This background, and her spirited aesthetic inspiration, have led to the work being popular, widely appreciated, and collected by many. In 2013, Malioutina was featured in Nancy Reyner's book, Acrylic Illuminations: Re‑active and Luminous Acrylic Painting Techniques. In it, Reyner states:
For my book, I was searching for artists that use specific painting techniques that are "eye-catching" and create interesting and sophisticated imagery. Maya's use of gold leaf and innovative antiquing methods beautifully accentuate her meditative works.
Manhattan Arts International recently selected Malioutina as a Featured Artist in Manhattan Arts International Artist Showcase Gallery, a curated online program.
She was also included in articles such as the April/May 2013 issue of Professional Artist Magazine as part of Innovations in Art and Art Marketing. She was also included in Renee Phillips' 2015 article, Acrylic Illuminations for Professional Artist Magazine.
She is represented by UGallery.com and was featured in September 2019 by Williams Sonoma.
The artist and her artwork have been included in many exhibitions over the years and are quite popular with collectors. It is in the collection of many private individuals throughout the United States and Europe.